Monday 06, October 2014
BLOG: Bleary eyed, hungover or just plain bemused
After yesterday's early kick-off at Old Trafford to which Manchester United beat Everton 2-1, Quays News reporter Anthony Murphy gives his lowdown on the game from his view in the stands.
Spectators head to Old Trafford at the crack of dawn, picture taken by Barney Chilton


Another twitchy win for United and suddenly, out of nowhere, the crisis club of a fortnight ago are in the top four.
Nobody is daft enough to think United are going to sweep all before them (at least I hope not anyway) but this was a very good win today.
Everton are the best side United have faced this season in what was, on paper, a very benevolent start.
Everton could've got a draw, maybe should've done and for the brilliance of David De Gea, who had an absolute blinder, probably would've done.
A mid-day kick off on a Sunday is a pain in the arse for most people. Circumstances dictated that because Everton were in Krasnodar on Thursday night, people were walking down Warwick Road bleary eyed, hungover or just plain bemused.
At one point we had Dutch Reds walking there, singing the twenty times song (to the melody of Give Me Joy In In my Heart) and to these ears, they all sounded like Steve McLaren on the karaoke. Apart from that, the build up to the match was as low key as you would imagine for that time of day on a Sunday.
I had a feeling that there was a good few Reds who were just as religious as City fans, and left it as late as possible to get to the match. Unlike our beloved neighbours though, the Reds did actually manage to get into the stadium having been to church…
It was a cagey opening to the game, becoming more memorable for referee Kevin Friend throwing yellow cards around like confetti.


This cautious start was breached with a brilliantly taken goal from Angel di Maria in the 27th minute. In first half injury time, Everton were given a penalty that, on first look where I was in the stadium, looked a very generous decision.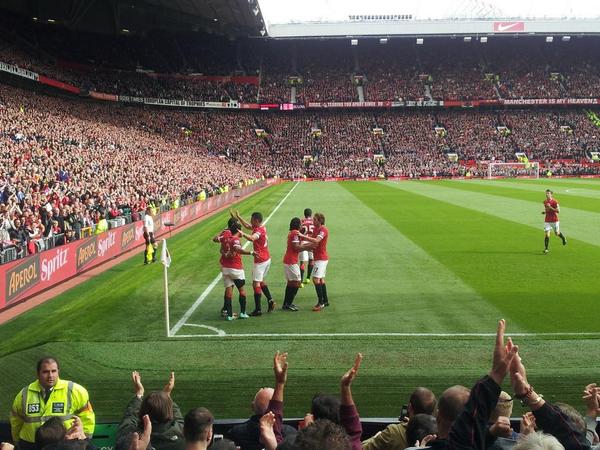 United players celebrate with goalscorer Angel Di Maria, taken by Neil Meehan
Having seen the replay on the television, I can now say that Friend called it right. De Gea made the first of his four amazing saves, to deny Leighton Baines from the resulting penalty. This would've given Everton great momentum going into half time.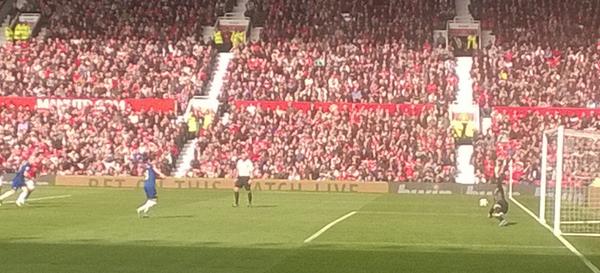 David De Gea's heroics end Leighton Baines' 100% penalty record at Everton
Radamel Falcao scored a winner in the 55th minute that was just as crucial for him as it was for United. Everton, up to that point, were playing very well and looking more likely to score.
This was no fifth goal in a 6-0 win. Prior to that, there was whispered anxiety around the terraces of how much he needed a goal. He dithered on a good chance just before his goal and there was a suppressed groan around me.

The sense of relief at Falcao's goal was immense. We've seen proven and quality forwards struggle at Old Trafford before.

Nearly all of us remember Diego Forlan and some people of a certain vintage will remember Garry Birtles, a lad who couldn't stop scoring before he joined United from Nottingham Forest.

The longer Falcao went without a goal, the more pressure would've built on him (witness Mario Balotelli now at Liverpool). For his winning goal, from my angle, Falcao looked offside.

As per the penalty decision and having seen it back on the television, the referee/linesman got it right again and the relief around the ground was palpable. The reaction of the Everton fans to my right hand side was telling. They were absolutely gutted.



Everton fans devastated by Falcao's winner and United's second

They obviously sensed something that nobody with a Red allegiance in Old Trafford was taking for granted. You would've thought United had scored an injury time winner looking at their faces and not with the best part of half an hour to play.


Everton fans were their usual selves. Impressively loud when the mood took them but otherwise silent. When Everton equalised with a free header from Steven Naismith after a Leighton Baines' cross, there was a nervous uncertainty around me as Everton took control of the game.

Four minutes later, Phil Jagielka headed goalward and we were resigned to United chasing a deficit again. Radamel Falcao made an unexpected contribution by saving United's arse on the line.

By Anthony Murphy
(Twitter: @AnthonyMurphy73)
Latest News

TOM Skinner, a coordinator for the Greater Manchester Living Wage ...... Read more