Monday 22, September 2014
BLOG: From serene to surreal
AFTER the weekend's humiliating defeat at the hands of newly-promoted Leicester City, Quays News reporter Antony Murphy assesses the damage done to Manchester United.Just in case anybody was getting too carried away after last weeks performance and result against QPR, this will calm down all those who were suddenly expecting a charge and challenge for the league.

Whatever improvements occur over the next few months, title challenging sides don't blow a 3-1 lead when beating a feisty pub side like Leicester City, no matter how unlucky the circumstances.


How it came to all this can be dissected by all but ultimately, it's Louis van Gaal who is trusted to sort this out. After a sublime first 16 minutes United were cruising with momentum gained from last weeks three points. 2-0 up with a header from Robin Van Persie on 13 minutes and a brilliant chip from Angel di Maria three minutes later, Leicester looked lost and United looked like running riot.

A minute later and Leonardo Ulloa was allowed a free header from five yards out with Jonny Evans and Rafael stood either side of him. Things calmed down for the remaining two thirds of the first half.
Concourse at half time, informing us that we'd travelled 111 miles to watch the match (photo courtesy of Barney Chilton)


Three minutes into the second half, Falcao hit the bar after he was fed by Wayne Rooney. Nine minutes after that, Ander Hererra brilliantly diverted a di Maria shot past a helpless Kasper Schmeichel. This was the goal that United needed to give themselves a bit of breathing space. Now we could all relax as we expected United to see out this match with all the professionalism that teams managed by van Gaal are renowned for. For travelling reds, things were about to get from serene to surreal. Boy were we in for a surprise!


Jamie Vardy first fouled Rafael Da Silva as they went for the ball on the left flank. With that foul having been missed by referee Mark Clattenburg, despite him being only yards away from the incident, Vardy then goes down like a sack of spuds in the penalty area as Rafael went to challenge him for the ball.

Vardy completely fooled the referee and he awarded Leicester a penalty which David Nugent smashed down the middle of David De Gea's net. Talk about falling for a three card trick? I look forward to Vardy getting the same vilification off the media this week as the likes of Ashley Young and Eden Hazard have deservedly received in more recent times for similar antics From there on in, United folded like a bad poker hand.

Three minutes later, former Inter 'Meelan' midfielder Esteban Cambiasso smashed an equaliser hard and low to De Gea's left hand corner for an equaliser after a Dean Hammond shot was inadvertently put into Cambiasso's way. After the euphoria of the giddy Leicester City fans,*7,000 of whom had come out of the woodwork for this game, United actually took control of the game in regards to possession. Things calmed down but we soon realised it was merely the calm before the storm.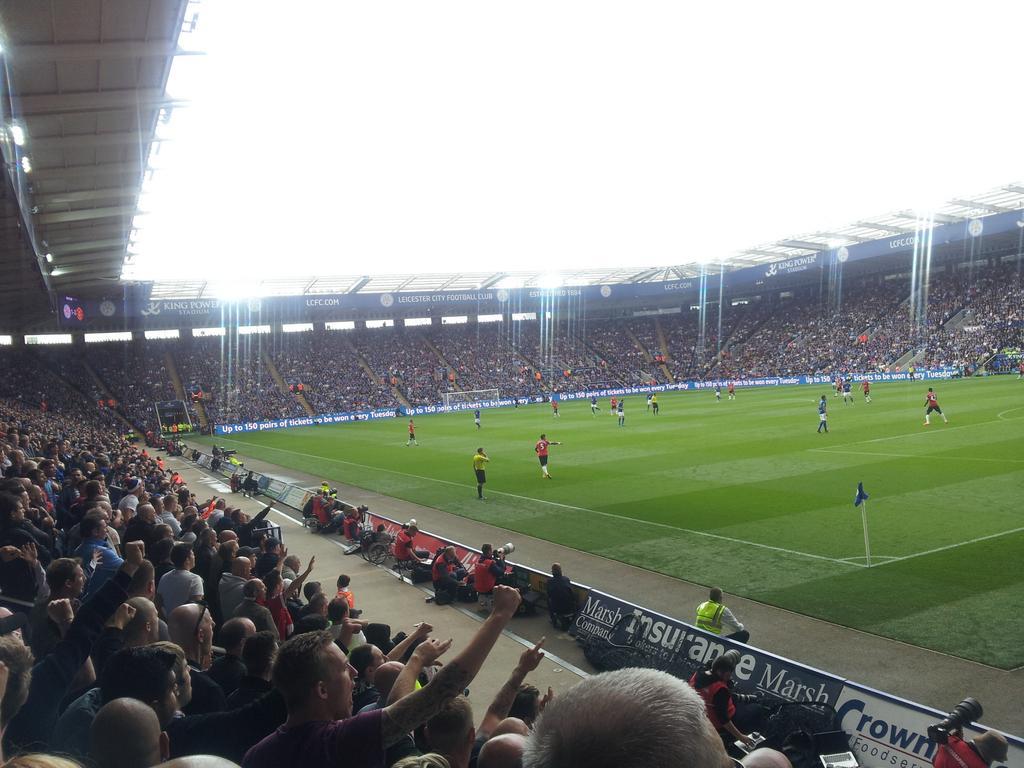 View from the away stand of Leicester's identikit stadium (photo courtesy of Neil Meehan)


15 minutes later, former United defender, Ritchie De Laet set Vardy up for an easily slotted goal past a blameless De Gea with United's defence nowhere. Leicester City fans shouted for five and got it soon after when Vardy fouled Tyler Blackett near the halfway line, only to yet again get away with it. Blackett fell into the same trap that Rafael fell into 20 minutes earlier and gave away a penalty on Vardy and also got sent off. This capped off one of the most unbelievable games of football I've ever seen.
Leicester deserved this win.

To come back from two goals down with half-an-hour to play against anybody and then to win by two goals is impossible to argue with.

The penalties won by Vardy have left a particularly sour taste in the mouth but looking at him in the grand scheme of things, he'll never have another day like this again. Give it a year at best and he'll be some forgotten no-mark playing the second or third tier of professional football. Blackett is young and can be forgiven such folly.

Rafael doesn't have that slack anymore. He's now 24-years-old and should not be still getting caught out like this. What happened today is not the first time Rafael has fell victim to machiavellian skullduggery from an opponent. David Luiz of Chelsea lured him into a senseless sending off in May 2013. Frank Ribery pulled a similar flanker on him in April 2010 in a European Cup match against Bayern Munich, a team managed by of all people, van Gaal. He'll have to learn and learn quickly as I don't believe the Dutchman will tolerate this from what is now a senior pro


United fans who travelled down here in the usual numbers have seen most things over the years, including losing two goal leads but never to lose so emphatically from such a position against such mediocre opposition. Next week, United play a West Ham side at Old Trafford who are buzzing off a very good win against Liverpool.

Having seen what I saw though, I wouldn't touch that match on a fixed odds coupon with asbestos proof gloves
Latest News

TOM Skinner, a coordinator for the Greater Manchester Living Wage ...... Read more